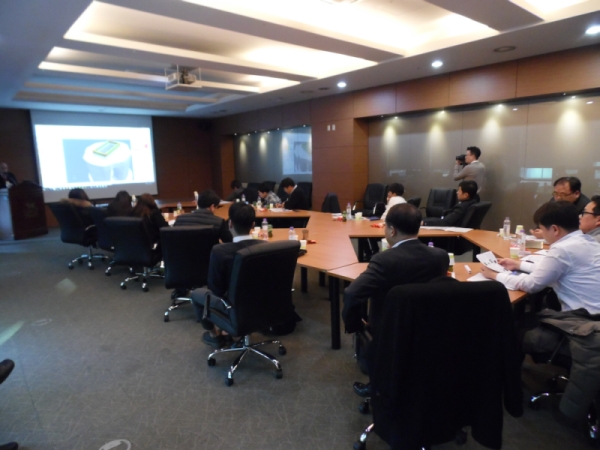 "ExtrusionPower" attracted Korean Aluminium Extrusion experts to CAD, CAM and Simulation presentations in Seoul
March 10, 2017, Tallinn - The advantage of using an integrated software suite dedicated for the aluminium extrusion is clearly an important topic for Korean Aluminium extrusion professionals, was proven by the success of a recent seminar in Seoul.
Organized by MIP's Korean distributor, Modoo Solution, the seminar has attracted several delegates from Korean aluminium extrusion die makers and extruders.
The seminar was organized in the core of Seoul's IT industry at the "Gasan Digital" complex. For the seminar, the management team of MIP was also in Seoul, for visiting customers after the seminar to demonstrate the products on site.
With the new introduced "Extrumat" module, ExtrusionPower allows very quick automatic modeling of 3D aluminium extrusion dies directly from the 2D die drawings. With one click, Extrumat analyzes the 2D drawing, detects the significant die features (like welding chambers, ports, legs, bearings etc) and creates the 3D die models in few minutes. After the 3D design of the die, it can be simulated and then manufactured on the CNC milling machines.
The first part of the seminar was reserved for the theoretical information's about the MIP's aluminium extrusion software products and implementations at the customers. After a short break a live demonstration was done, the main focus of the presentation was the automatic modeling from 2D to 3D. The last part of the seminar was then covering questions and answers in the areas of CAD, CAM and Simulation for the aluminium extrusion. This last part took more time then it was planned, as there were many questions from the audience.
Next to the management of MIP Ltd, the top management and the application engineers of Modoo Solution were also taking part at the seminar. Mr.Chung-Gu Jung, the CEO of Modoo Solution says about the success of the seminar "Our company Modoo Solution is almost 12 years on the Korean market and we always try to introduce state-of-the-art engineering products to the attention of the Korean industry. This was also the case with ExtrusionPower. ExtrusionPower is the world's only integrated product suite for Aluminium Extrusion industry, which covers all the three main engineering 3D software disciplines, CAD, CAM and Simulation".
About Modoo Solution

Modoo Solution is one of the Korean leading providers of Computer Aided Design (CAD) and Product Lifecycle Management (PLM) software solutions. Modoo Solution helps to customers to optimize their engineering processes by providing extensive product development expertise and software technologies, for radically increasing productivity and efficiency in their product development processes. Modoo Solution offers PTC's Creo and Windchill product lines and GstarCAD software solutions and related product development tools including services,hot line support and training. Modoo Solution is headquartered in Gasan Digital complex in Seoul with sales and technical coverage all over the Korea.
For the latest news, information or online demonstrations, visit the company's web site at http://www.modoosol.com
About MIP

MIP Ltd (abbreviation for "Manufacturing Integration Products") develops and markets CAD/CAM/PDM software for the extrusion die design, mechanical engineering, manufacturing and product data management, which are the leading edge and easy-to-use. With a broad experience and several hundreds of installations worldwide, MIP distributes and supports its products through its own offices and a worldwide reseller network.
ExtrusionPower is a knowledge based 3D CAD application for the design and manufacturing of Aluminum Extrusion dies. Featuring a new direct design approach for the creation of complete extrusion die sets, ExtrusionPower is the leading solution for die makers, who are in search of an innovative application.
For the latest news, information or online demonstrations, visit the company's web site at http://www.mip-group.com